Packing Hack to Save Luggage Space - Travel Packing Cubes
Travelling is a lot of fun. You discover new and exciting places, experience new cultures and enjoy breathtaking sights.
Packing Dulls Your Love For Travel
We all love to travel, but how many of us love to pack?
Yeah, travelling is great because it gives us the opportunity to unwind, relax and recharge our batteries. 
However, let's face it, preparing for it is so stressful and frustrating, that by the time you finish packing, you feel like you need a vacation just because of this.
Under-Packers versus Over-Packers
When it comes to packing, there are two types of people: under packers and over packers.
You either take too little stuff with you and may find yourself needing to buy stuff at your destination or too much and you end up dragging along a bulging mess of luggage.
And truth be told, neither option is good.
Underpacking may seem like a good idea, especially if you want to travel as light as possible. But what happens if the weather suddenly changes or you somehow manage to stain your clothes or 100 other things can happen that could force you to buy things that you need.
Packing Takes Up Too Much Of Your Time
Now tell me, who wants to waste hours shopping for clothes and toothpaste instead of turning that time into #happytime?
Plus where are you going to put all that new stuff? Cram it all in the small luggage you came with and pray it turns into the magician's hat so it magically fits everything?
And if you do that, what are you going to do with all those souvenirs you plan on buying?
That's also the problem when you overpack. Not only does this mean you're taking half your closet "just in case", but you'll also be forced to drag cumbersome luggage around with you. 
And when you thought it couldn't get more laborsome ... What do you do when you reach your destination?
Do you unpack all your stuff, put it in neatly in your hotel … or are you living out of your suitcase, each day digging through everything in an effort to find what you're looking for?
Unpacking Versus Luggage Mess
Both options have more downsides than upsides.
On one hand, you waste time trying to put everything in its place, like you're moving in or something... That's not only time consuming but puts you at risk of forgetting something when you leave.
On the other hand, you end up making a big mess of your luggage. Not to mention that on your last day you are forced to do complex mathematical equations to figure out how to stuff everything back in (plus the souvenirs) without your suitcase exploding in the face of some poor airport worker.
By now I think we can both agree that a traditional approach to travel packing doesn't really work in these modern times.
Packing Cubes For The Win!
More and more people are turning towards packing cubes as a viable option. Now, in case you don't know, packing cubes are relatively small containers made of fabric that help you save luggage space thanks to what is known as a compression system. 
But if we're completely honest here, not all packing cubes are made equal. Most of them pull apart like butter after a couple of trips (I know mine did) and when it comes to compression, they're one of those jokes only funny when they don't happen to you.
Do All Packing Cubes Work?
You're probably thinking: ok, but they're only $20. That's not so much if you get a couple uses out of them.
Yeah, $20 isn't a fortune, but when you take into account the fact that the average person goes on vacation at least 2-3 a year, plus the occasional family gatherings and special holidays, you start to realize that you might be travelling anywhere from 5 to 10 times a year.
And I'm not even considering business travels, which for many people are something that happens at least once a month.
So when you stop and think about this for a second, you're starting to realize that $20 packing cubes that tear easily aren't the answer. 
We already established that the average person travels for at least 10 times a year (be it business or pleasure). Well, if your $20 packing cubes become useless after 3 trips, that means that within a year you are spending at least $60 on packing cubes alone. In 10 years that's over $600 that you're wasting on these low-quality cubes.
Do You Have To Settle?
For some time now I thought I would have to settle for this. You get some, you use them a couple of times, they become useless, they end up in the landfill, you buy new ones again and again.
Either that or invest into a real set of packing cubes that actually delivers much more than a fancy marketing promise and actually lasts you for yeeeeeeears to come.
LiteTravel Double Compression Packing Cubes - The Best Packing Cubes You Can Own
Luckily, I came across the perfect answer to all your packing woes: LiteTravel Double Compression Packing Cubes.
Unlike normal packing cubes, LiteTravel Packing Cubes have a double-compression system that allows you to save up to 66% of luggage space.
Save 66% Luggage Space
Think about it, using these cubes you can fit more stuff in a fraction of the space, leaving you plenty of room for souvenirs on your trip back. And they fit perfectly in everything from suitcases to backpacks, to carry-ons and everything in between. 
Here's a visual aid to help you better grasp the space-saving power of these cubes:
Durable RipStop Parachute Fabric
Plus these travel cubes are made from a new super lightweight RipStop parachute fabric that is woven using a special reinforcing technique, making it resistant to tearing and ripping.
Yep, that's right! The LiteTravel packing cubes are made from parachute fabric, something that skydivers trust to keep them safe at 15,000 ft, so you know you can trust it on your travels!
Hook & Hang Makes Unpacking A Breeze
Also, you remember the living out of your suitcase approach that so many of us take when we're at our destination?
Well, LiteTravel packing cubes have a unique feature that takes care of that problem.
It's called Hook & Hang and just as the name implies, it allows you to simply take out your cubes, find a place where you can hang them...and now you have quick and easy access to your clothes without making a mess of your suitcase.
Epic Toiletry Cube
I can almost hear you say: Ok Alex, that's all fine and dandy, but what about all the other stuff that's a pain to pack? Things like toiletries and charging cables that won't stay neatly wrapped?
Well, the LiteTravel packing sets have an answer for that as well. 
For starters, it has a special toiletries cube that virtually allows you to pack half your bathroom in one neat cube. Check this out: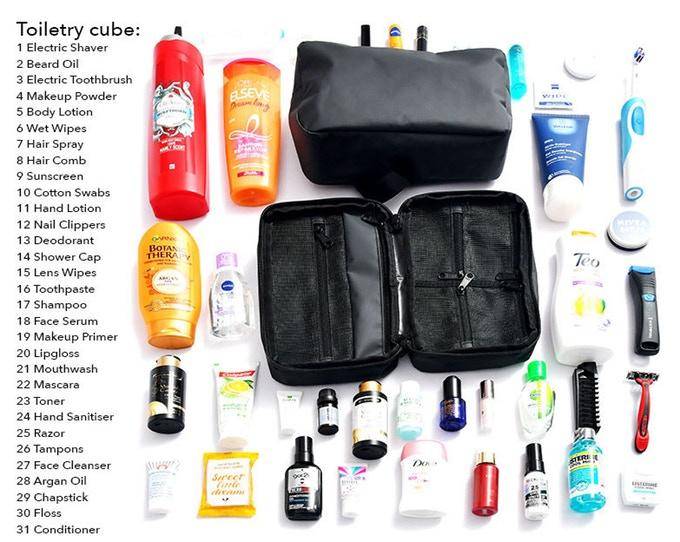 This is a real live-saver, especially for women who need to take a lot more toiletries than men and have a hard time fitting everything in one zip-lock bag.
Organise Cables In The Electronics Cube
And you can say goodbye to messy cables and damaged gear thanks to the electronics cube.
It can comfortably fit all your cables, chargers, gadgets and accessories. The outside walls are lightly padded to offer extra protection for your valuables.  
Imagine having all your stuff so neatly packed and organized each and every time you go on a trip. Having the freedom to pack all the things you want to take with you without having to stuff your luggage to the brim.
Picture how your suitcase will look when you finish packing and about half of it is still empty. All thanks to these amazing packing cubes that are guaranteed to last you for years to come.
If you want to save space and travel light next time you're going on a trip, you can  get your LiteTravel Packing Cubes here